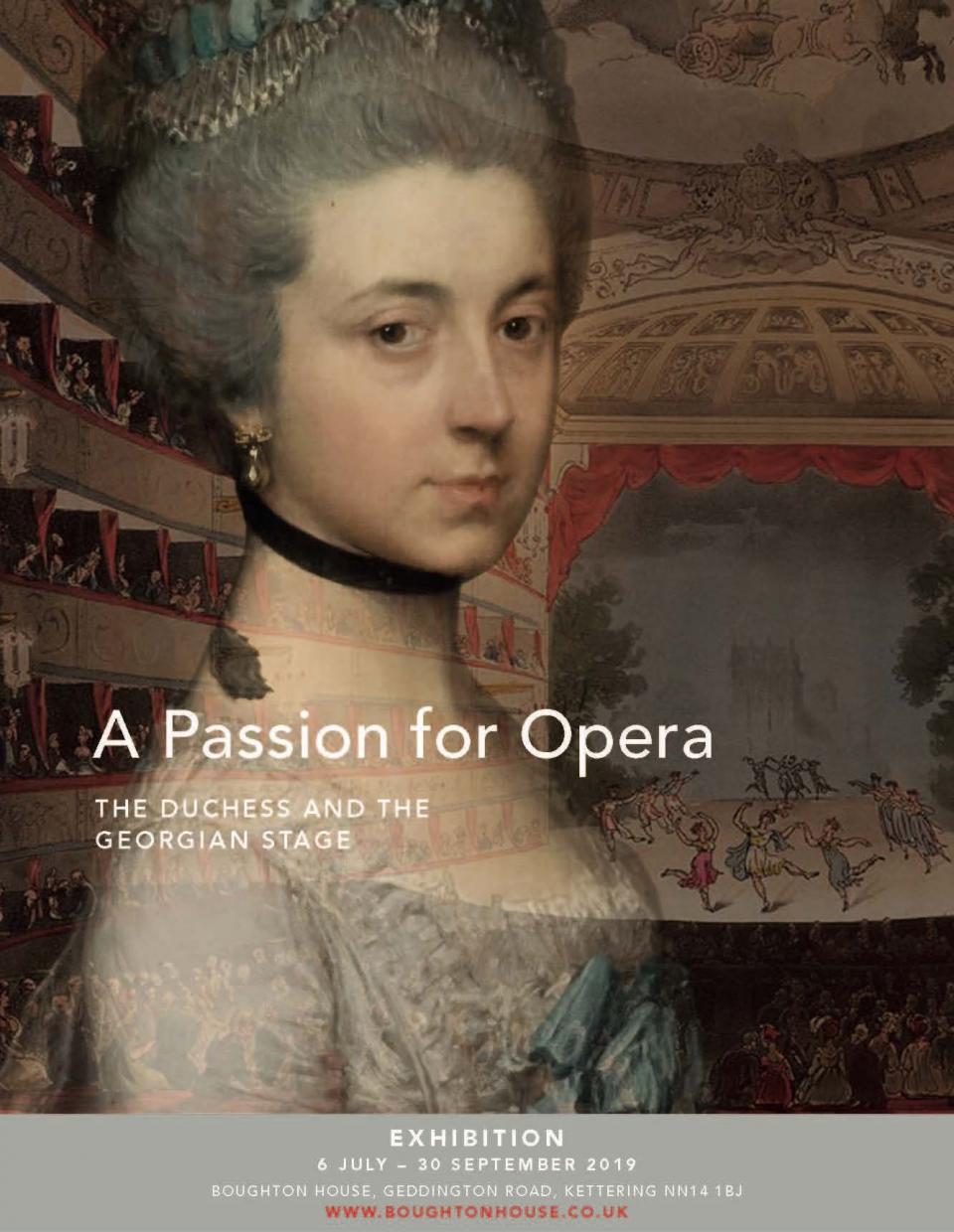 'A Passion for Opera: The Duchess and the Georgian Stage', a new exhibition at Boughton House, is open to the public through August 2019.
Elizabeth Montagu, Duchess of Buccleuch (1743-1827), was a pivotal player in Georgian high society and a lifelong lover of opera. A Passion for Opera: The Duchess and the Georgian Stage uses the rich resources of the Montagu Music Collection at Boughton House and the archives of the Buccleuch family to delve into the world of Georgian operatic culture and the women who inhabited it. Sound Heritage members Paul Boucher, Jeanice Brooks, Katrina Faulds, Catherine Garry and Wiebke Thormählen co-curated the exhibition as part of the AHRC-funded research project 'Music, Home, and Heritage: Sounding the Domestic in Georgian Britain'. 
Paintings, instruments, scores, archival documents and objects provide a vivid glimpse of opera as it was cultivated in the home and on the stage. We explore Elizabeth Montagu's experience of going to the opera, investigate the family's interactions with opera stars such as Angelica Catalani and Nancy Storace, and consider their efforts to establish opera 'at home' in Edinburgh as well as in London. We introduce the singing masters and dancing mistresses who taught and performed with the family, revealing rare evidence of how operatic music was performed in aristocratic homes.
Visitors can try out the reproduction sedan chair, peruse Duchess Elizabeth's collection of operatic caricatures, and admire the luxurious spyglasses and fans that wealthy spectators took to the theatre. Annotated scores and other archival documents reveal the extensive musical training undertaken by young women in the eighteenth century, and bring to light the networks that joined opera stars and their admirers.
A Passion for Opera: The Duchess and the Georgian Stage remains open to the general public until 31 August; for opening times and ticket prices, see the Boughton House website.
A full review of the exhibition by Mahima Macchione appears in Opera Today.