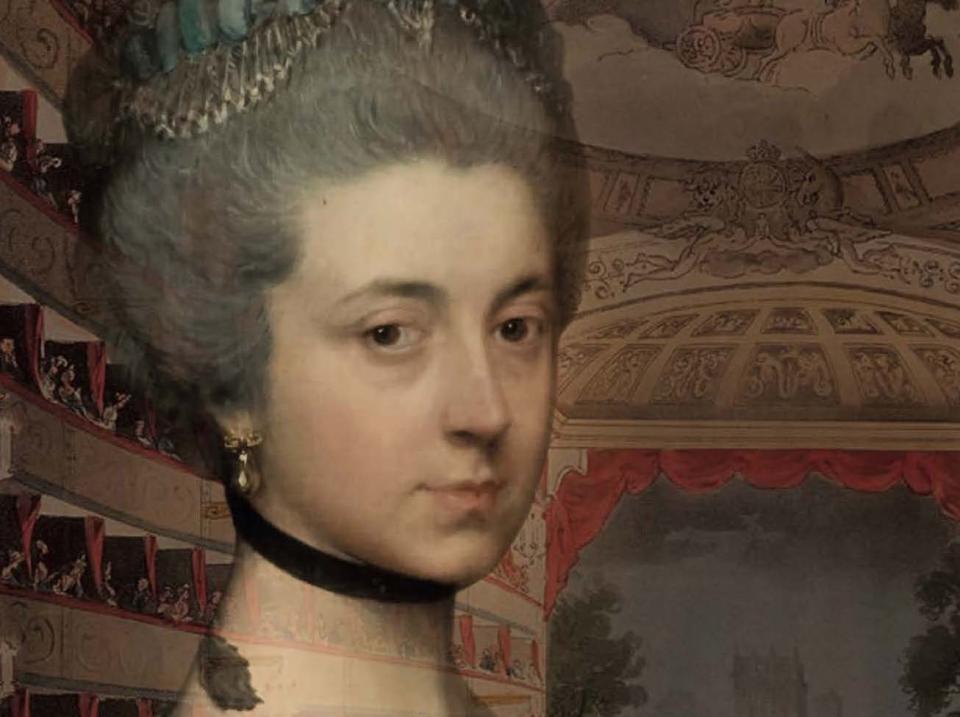 A Passion for Opera: The Duchess and the Georgian Stage explored the world of operatic culture through the eyes of Elizabeth Montagu, 3rd Duchess of Buccleuch (1743-1827), musical connoisseur and lifelong opera lover. An exhibition at Boughton House, Northamptonshire, July-September 2019, brought together a rich array of objects and music to trace interactions between home and opera house in late Georgian Britain. The launch event on 6 July 2019 featured a newly assembled pastiche opera, produced in association with the Oundle International Festival, with a scenario and music drawn from the Montagu Music Collection at Boughton House. The exhibition book and catalogue, published by the Buccleuch Living Heritage Trust, and a video of the launch event are freely available to view and download through the links below.
A pivotal player in Georgian high society, Elizabeth Montagu patronised the Italian opera house in London through both its periods of glory and of near demise, and she brought opera stars into her home to entertain the family and teach her four daughters. Her life in music is richly documented in the Montagu Music Collection at Boughton House and in the archives of the Buccleuch family.
The exhibition drew on new research completed during the 'Music, Home and Heritage: Sounding the Domestic in Georgian Britain' project funded by the Arts and Humanities Research Council of Great Britain. The research team, led by Professor Jeanice Brooks (University of Southampton) and Dr Wiebke Thormählen (Royal College of Music) worked in partnership with Paul Boucher, Music Advisor to the Duke of Buccleuch, and Crispin Powell, the Buccleuch archivist, alongside research assistant Dr Katrina Faulds and curatorial assistant Catherine Garry to curate the exhibition. A Passion for Opera featured a rich mix of paintings, documents and scores from the Buccleuch Collections as well as loan objects from The Cobbe Collection, the Horniman Museum, the Fan Museum (London), the Royal College of Optometrists, and private collections.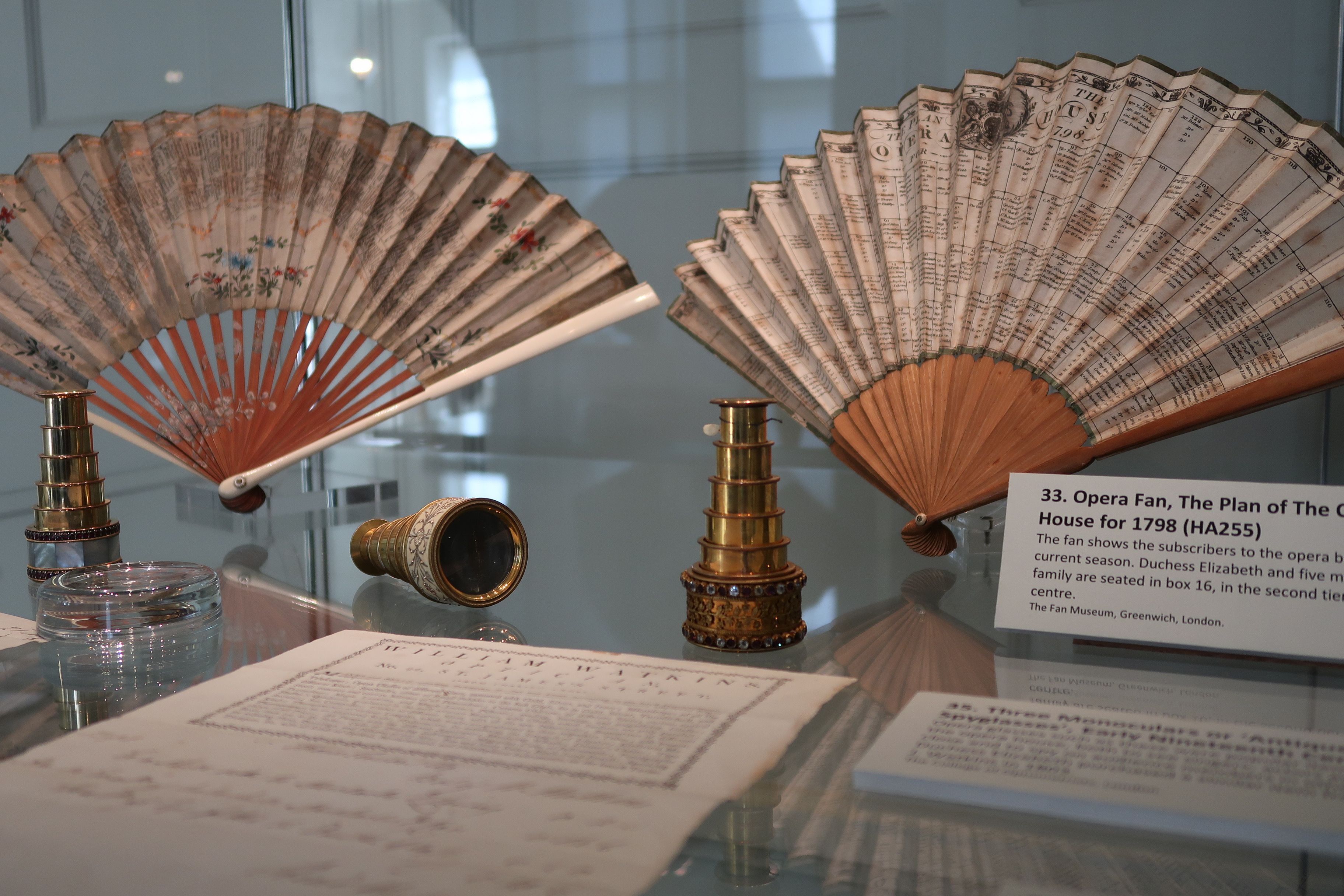 A Passion for Opera traced music's role in the Buccleuch family and domestic life, which they spent between residences in London and their seat at Dalkeith Palace just outside Edinburgh. Elizabeth, the sole heiress to George, Duke of Montagu, grew up in London and Northamptonshire, and on her marriage in 1767 to Henry, 3rd Duke of Buccleuch, moved to Scotland at a time when Edinburgh was in full expansion. Her four daughters received instruction from the Italian singing teachers Dominico Corri and his brother Natale, key players in bringing opera to Edinburgh. And despite Duchess Elizabeth's reservations about female exhibitionism on the stage, she hired the illustrious French dancer Madame Hilligsberg to teach her youngest daughter, Harriet. All her daughters—Mary, Elizabeth, Caroline and Harriet—exercised their interest in ballet through dancing lessons but this was complemented by the study of ballet music at the keyboard, which allowed them to re-imagine the physical athleticism of professional dancers while at the instrument.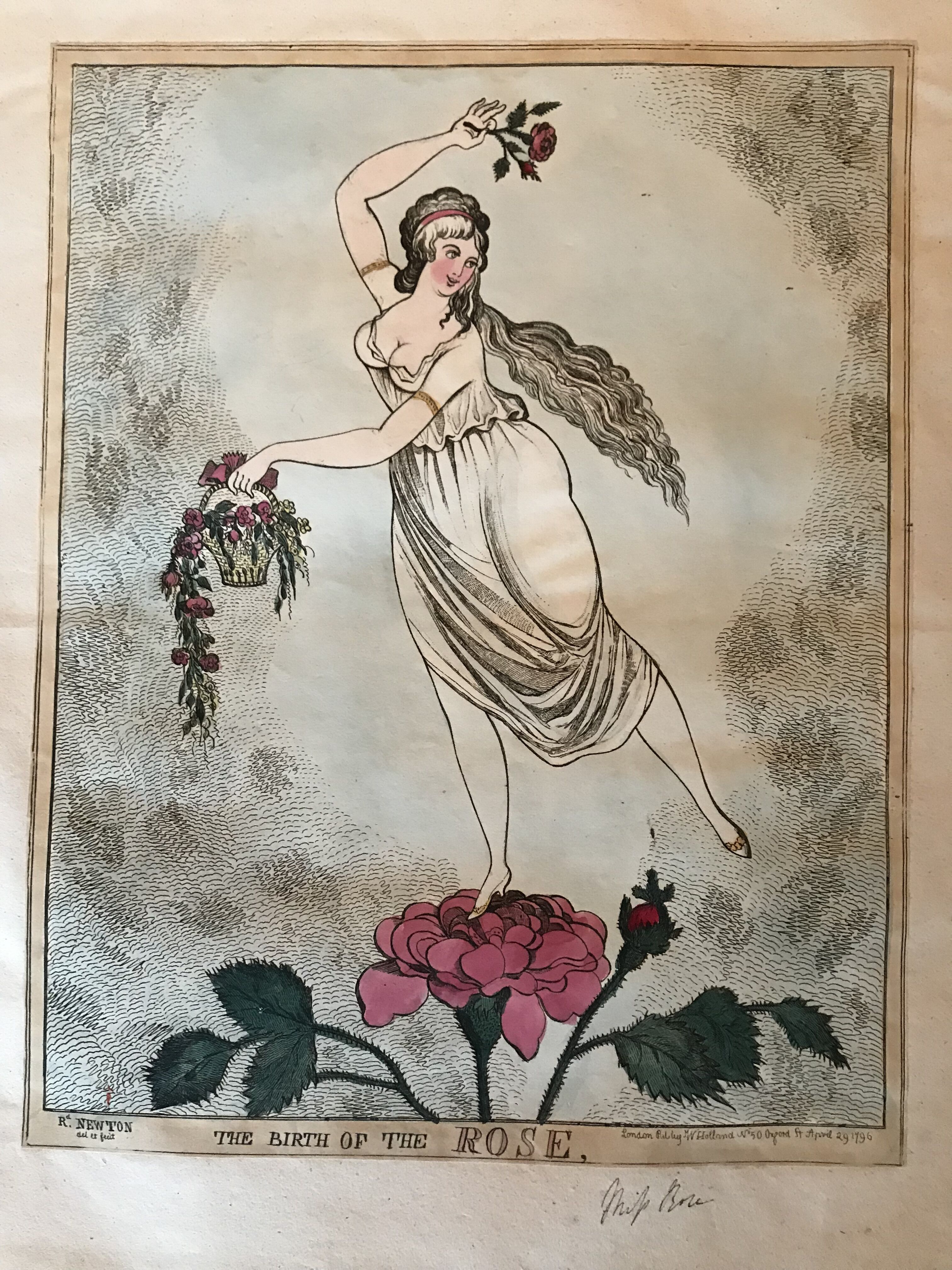 Account books demonstrate the frequency with which Elizabeth and her daughters attended both Italian and English opera in London, taking sedan chairs that could fit through narrow streets while keeping finery safe from the elements. A series of dinner books record in unique detail who visited Dalkeith Palace and note the musical events that punctuated family life in Scotland, including concerts by professional musicians and a visit from the international opera star Angelica Catalani. Entries that record the family's attendance at her concerts in Edinburgh are illustrated with playbills pasted into the book, and the note of the celebrated soprano's visit for dinner and the night describes how she sang and performed 'attitudes with a shawl' after dinner.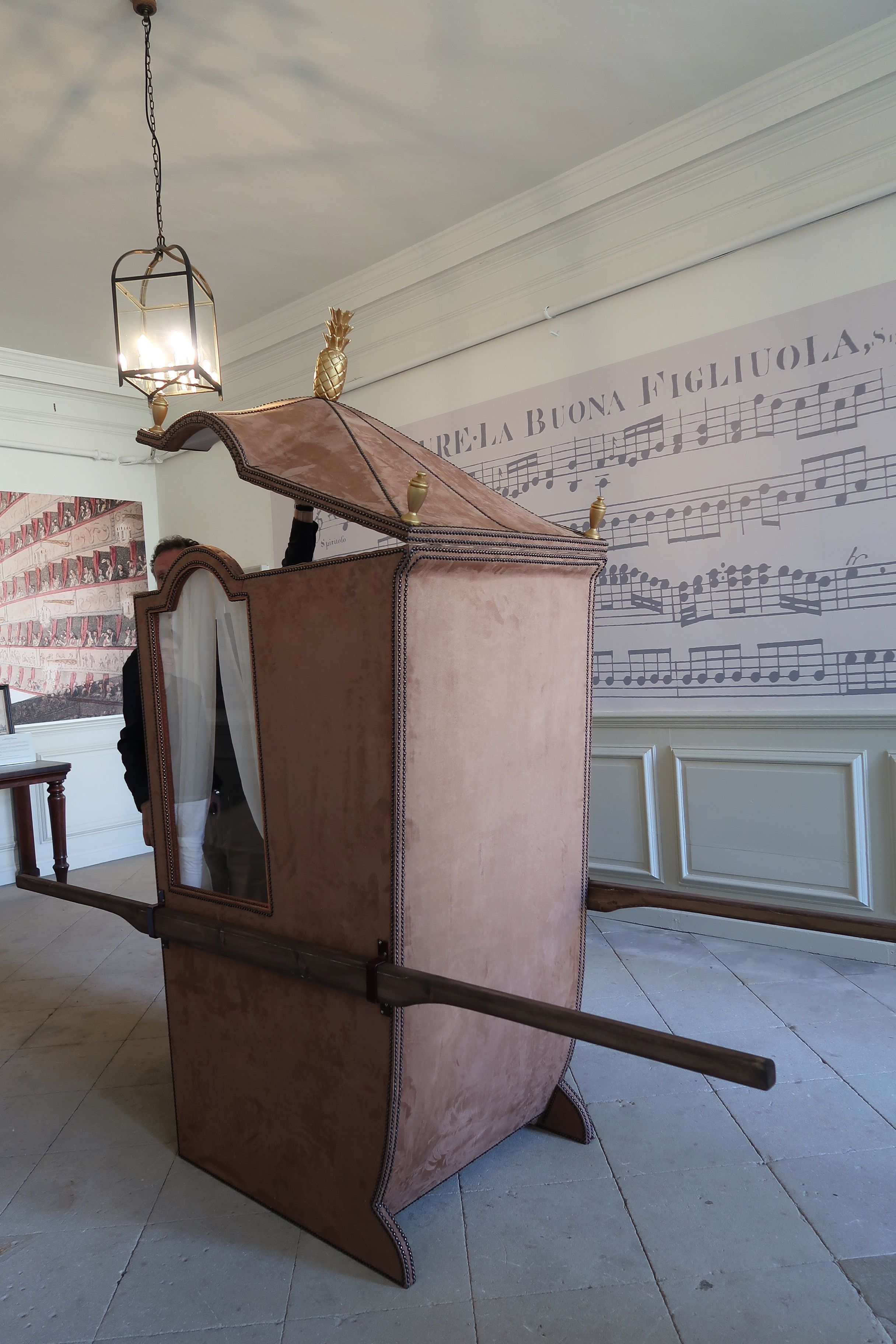 Replica sedan chair by Calum Flanders
The exhibition investigated the complex interaction between opera at the King's Theatre and Drury Lane in London and opera enacted, imagined and consumed at home. It highlighted the multiple tensions that emerged for aristocratic women engaging with opera, an art form that in its lavishness both on stage and in the opera boxes displayed and affirmed their social status, yet whose music, dramatic plots and female stars often transgressed traditional concepts of female deportment. Creating opera at home became a crucial moment for exploring the boundaries around female conduct and agency both within and beyond the domestic.
Click on the image below to download the free exhibition book, with essays and a catalogue of the exhibition: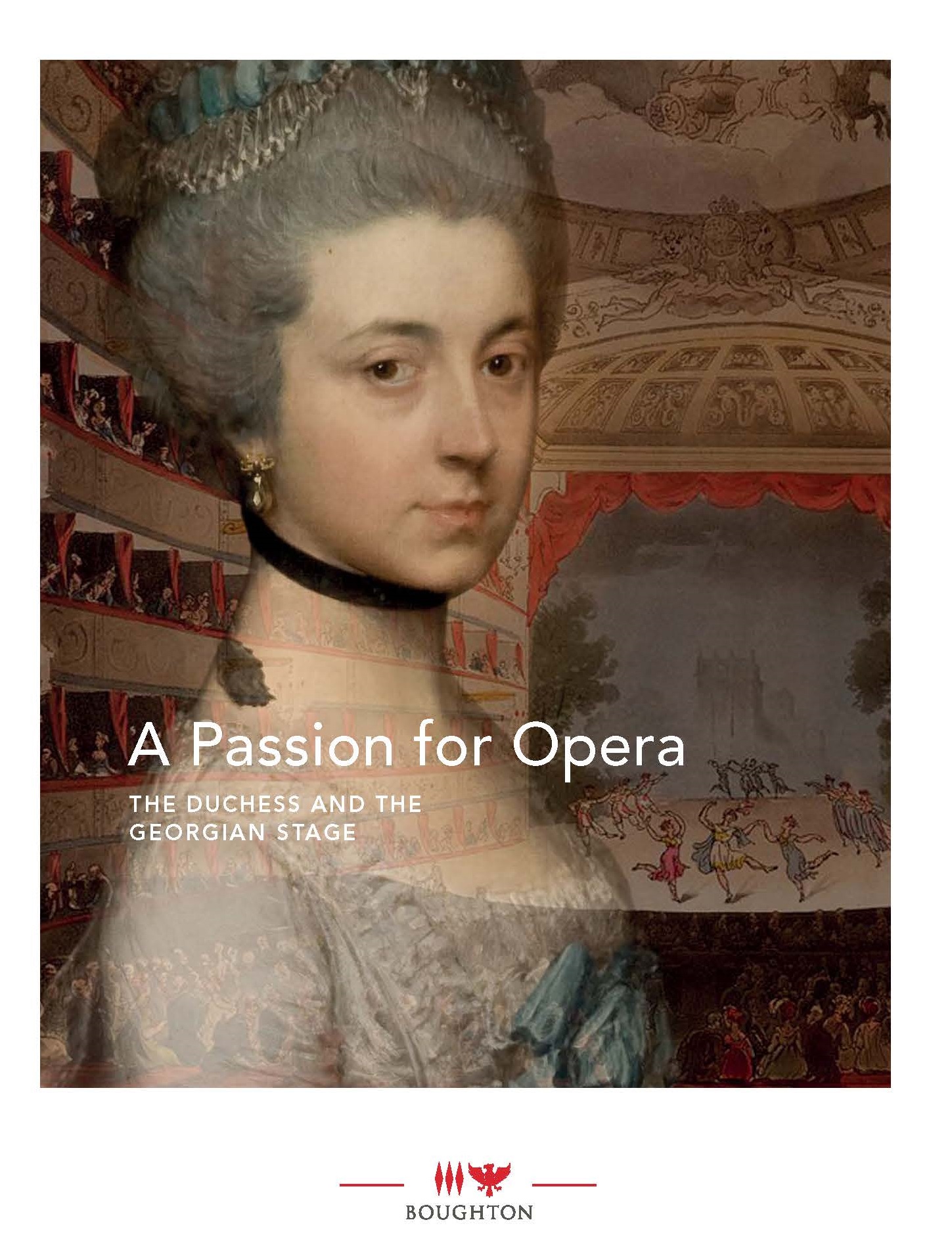 The exhibition was launched with a scholarly symposium hosted by Richard Scott, 10th Duke of Buccleuch and 12th Duke of Queensbury, and a concert featuring a semi-staged operatic pasticcio. The concert, Domenico and the Duchess, drew from Domenico Corri's Singers Preceptor (1810), a user's guide to Italian singing for British readers which was dedicated to Elizabeth Montagu, 3rd Duchess of Buccleuch in recognition of her support. In a scenario based around vocal tuition, the event interspersed musical selections from the Montagu Music Collection at Boughton House with extracts from Corri's text to tell the story of Don Febeo, a pompous but passionate music lover, his daughter Rosina, and her suitor Lindoro. The pasticcio was accompanied by a chamber ensemble of piano, flute and strings—a combination characteristic of late Georgian settings—and featured singers from Opera Prelude, a charity supporting the work of early-career opera singers.
Click on the image below to download the concert programme with notes and translations: